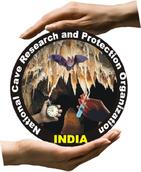 National Cave Research and Protection Organization as known as Save Caves-India, is a research based organization, promoting the cause of our subterranean biome conservation and scientifically exploration of the hidden facts lying in it.
Mission of Save Caves-India: To unearth the hidden facts associated with the subterranean caves and their proper conservation through proper Research and Mass Awareness Programmes.
Vision of Save Caves-India: Pioneer independent scientific organization, devoted to scientific exploration and conservation of subterranean caves of India.