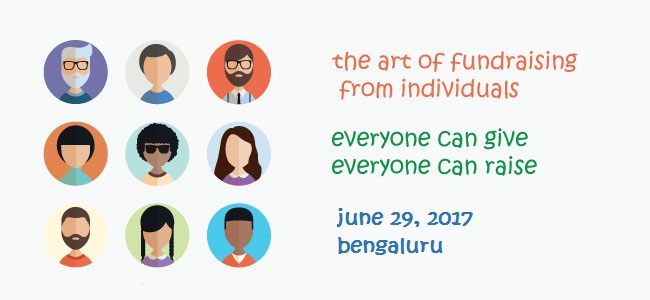 The Art of Fundraising workshop brings to you the Why? What? And How? of fundraising from individuals. A unique format combining knowledge, experience and practice to maximize your output with speakers & facilitators having more than a decade of experience in their respective fields.
Date: Jun 29, 2017
Venue: Springs Hotel & Spa
Address: #19 H Siddaiah Road, Off JC Road, Opp Lions Hospital, Before Urvasi, Bangalore, Karnataka – 560002 (near Lalbagh) (on Google Maps)
Time: 9:30am – 6:30pm
Yes! We truly believe everyone out there can give. More importantly, we believe everyone, including you can raise money by getting them to give. And that is the Art of Fundraising – it is an art since the individual gives more emotionally and less rationally, more spontaneously (and yet equally thoughtfully) and less through discussion and debate and most importantly more rather than less.
On the other hand, we believe that the NGOs working directly with the underprivileged sections of society have the most inspiring tales of human achievement and social transformation. These stories evoke emotion and spontaneity in individual donors engaging them to increase their giving over time. Individual donors, indeed, are key to an organization's success, not only in fundraising but in achieving social change by impacting the hearts and minds of hundreds, thousands, millions and billions!
Alas! This has unfortunately not been a focus area for many NGOs. Few know that no less than 40% of all donations are made by individuals in India today. So, we bring to you the Art of Fundraising Workshop to help you understand what are some of the ways you can reach donors – online & offline.
Time
Session

9:00 – 9:30 am

Registration
IMPORTANCE OF RETAIL FUNDRAISING

9:30 – 10:15 am

The importance of retail fundraising for NGOs

Sundeep Talwar, CMO, Akshaya Patra
Jithin Nedumala, Co-Founder, Make A Difference

10:15 – 10:45 am

Why is fundraising from individuals important?

Dhaval Udani, Founder & CEO, danamojo.org

10:45 – 11:15 aam

How philanthropy is helping NGOs build their fundraising capacity?

Gautam John, Director of Strategy, Nilekani Philanthropies

11:15 – 11:30 am

TEA/COFFEE BREAK
BUILDING EFFECTIVE DONATION PRODUCTS

11:30 – 12:30 pm

Best Practices for High Performing Donation Products for Individual Donors

ACTIVITY SESSION
Each NGO develops 1 donation product of its work using the best practices

Dhaval Udani, Founder & CEO, danamojo.org

12:30 – 1:15 pm

LUNCH BREAK

1:15 – 1:45 pm

ACTIVITY SESSION (contd.)

NGOs present and receive feedback on their donation products

Dhaval Udani, Founder & CEO, danamojo.org

IMPORTANCE OF DONOR MANAGEMENT SYSTEM

1:45 – 3:00 pm

Why is it important to have a donor management system?

Jayashree Rangarajan, Director, Symmetric Infotech

3:00 – 3:15 pm

TEA/COFFEE BREAK
SOCIAL FUNDRAISING

3:15 – 4:15 pm

What? Why? And How of Social Fundraising? When does it work? And when not?
Best Practices for Building an Effective Campaign

Ishita Anand, Founder & CEO, BitGiving


4:15 – 5:15 pm

ACTIVITY SESSION

NGOs Develop a Campaign for their Cause
Few NGOs present and receive feedback on their campaign

Ishita Anand, Founder & CEO, BitGiving


SIMPLIFYING THE DONATION PROCESS

5:15 – 6:00 pm

ACTIVITY SESSION

Feedback on Donation Process on websites of NGOs present in the room

Dhaval Udani, Founder & CEO, danamojo.org

6:00 – 6:30 pm

Experience Sharing & Feedback Gathering
Sundeep Talwar

Chief Marketing Officer, The Akshaya Patra Foundation

The Akshaya Patra Foundation is the world's largest school meal program run by an NGO feeding over 1.6 million children every day in 29 locations and 12 states in India. Sundeep is a dual Post Graduate in Management from Duke & IIM Ahmedabad and certified black belt in Quality with over 20 years of work experience in the areas of marketing & communications with leading corporates especially in the Telecom Sector.

His search for 'Existential Purpose' in life made him quit a corporate career and join the Akshaya Patra Foundation, a not-for-profit organization with a vision that 'No Child in India shall be deprived of Education because of Hunger'. Akshaya Patra's mission is to feed '5 million children daily by 2020'. It has been rated as one of the top 100 NGOs in the world (ranking 23) by the Global Journal of Geneva.

Jithin C. Nedumala

Co-Founder, Make A Difference

Jithin has been working with children in orphanages since his second year of University and in 2006 founded Make a Difference along with three of his friends. Since then he has grown MAD from an idea to make a difference to vulnerable children, into an organisation working with 67 shelters across 23 cities in India.

Jithin has been awarded the Ashoka Global Youth Social Entrepreneur award, Karmaveer Puraskar, Cordes Fellowship, Dasra peer grant and Youth Actionnet Fellowship for his contribution to society. He was one of the few social entrepreneurs personally supported by Michelle Obama through her International Youth Engagement Program and was one of the contenders for the Forbes India "30 under 30" list. He is currently part of DASRA's 2014/15 cohort of social entrepreneurs.

Gautam John

Director of Strategy, Nilekani Philanthropies

Prior to Nilekani Philanthropies, Gautam spent several years with the Akshara Foundation building the Karnataka Learning Partnership and at Pratham Books building their open source publishing model. He is an advisor to Pratham Books, Akshara Foundation, Inclusive Planet Centre for Disability and Policy, STIR Education in India and Children's Lovecastles Trust. He was a TED India Fellow in 2009. Before his time in the non-profit sector he was an entrepreneur for six years and graduated from the National Law School in 2002.

 
Dhaval Udani

Founder & CEO, danamojo.org

Dhaval is the Founder & CEO of danamojo.org, India's first payment solutions platform specially designed for NGOs. Prior to this, Dhaval was associated with GiveIndia for over 8 years as both volunteer and employee. He left GiveIndia after a 4 year stint as the CEO. During his association with GiveIndia, retail fundraising increased from Rs. 7 cr to Rs. 42 cr through more than 150,000 donors. He was instrumental in various innovations including alliance-based fundraising with various corporate brands such as MakeMyTrip, Payback, GroupOn etc. He also designed and conceptualized India's largest online fundraising event – India Giving Challenge which raised more than Rs. 20 cr in 6 years from over 75,000 donors and gave out over Rs. 5 cr in matching grants.

Dhaval is an alumnus of the Indian Institute of Management, Ahmedabad, and a Computer Science graduate from VJTI, Mumbai. Dhaval has an experience of over 15 years spanning technology, management consulting and philanthropy advisory. Dhaval has worked with multi-nationals such as Citigroup and A. T. Kearney before he began his social sector journey with GiveIndia. Dhaval is also visiting faculty at S. P. Jain Institute of Management Research where he teaches a course on Fundraising 2.0: The Art of Social Fundraising where students take part in a fundraising competition to put into practice what they have learnt in the classroom. Dhaval is also an Aspen Fellow and a part of its India Leadership Initiative.


Ishita Anand

Founder & CEO, BitGiving

Ishita is the Founder and CEO of BitGiving, India's leading online crowdfunding platform which helps raise funds online for various projects may it be entrepreneurial, creative or social.

Listed in Forbes 30 under 30 Asia 2017, Ishita started her first venture at an early age of 22. Passionate about making impossible dreams come true through her fin-tech venture, she envisions revolutionising crowdfunding in India. Anand's infectious energy, perseverance and foresightedness have helped BitGiving grow from a two member company to a leader in the crowdfunding niche.
An erstwhile film-maker, Anand is an alumnus of Lady Shri Ram College. She is also affiliated with the Lean In Foundation and is heading the circles for Women Entrepreneurs in India

Jayashree Rangarajan

Director, Symmetric Infotech (makers of DMS Hive)

A Chartered Accountant with over 20 years of experience, Jayashree Rangarajan has rich cross-functional and cross-domain experience in finance, technology and business process management. Having spent her initial years in finance and control at Citibank, Ashok Leyland Finance and A.F Fergusons, Jayashree moved to a business architect role in iCode Inc, USA an early pioneer in integrated ERP for the mid-market segment in North America.

After 6 years with iCode where she headed the Business Analysis and Technical Documentation teams, Jayashree co-founded Symmetry Infotech in 2005 as a technology provider for niche markets. One of Symmetry's earliest clients was Child Rights and You which commissioned Symmetry with the task of designing and building a donor management solution compliant with the Indian statutory, banking and NGO ecosystem. Since then, Symmetry has strengthened its presence in the NGO vertical and is currently the leader in web-based ready-to-use enterprise solutions for donor/donation management, pre-sales, integrated donor outreach, analytics, finance and online donation platforms. Symmetry's customers include a blend of international as well as domestic leaders such as CRY, WWF, CAF, Akshaya Patra, CARE, Sightsavers, Sankara Eye, Unnati Centre, Mobile Creches and more.
In addition, all the service providers in the workshop are offering discounts to participating NGOs who sign up for the workshop. You can avail benefits of over Rs. 1,000. So even more reason to take part. Learn and implement at a discount.
danamojo is offering a 20% discount on setup and integration fees (Advantage Plan – Rs. 3,999 & Premium Plan – Rs. 7,499) amounting to Rs. 800 and Rs. 1,500 respectively
To avail these discounts, you need to signup for the services before Jul 31, 2017.