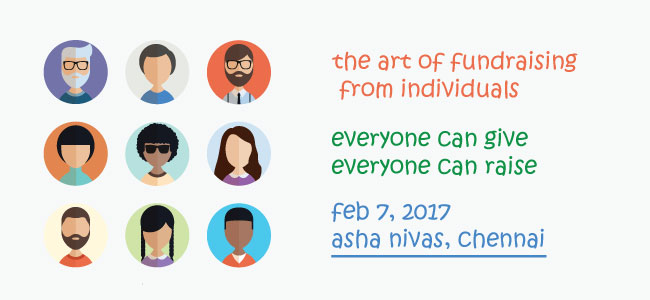 The Art of Fundraising workshop brings to you the Why? What? And How? of fundraising from individuals. A unique format combining knowledge, experience and practice to maximize your output with speakers & facilitators having more than a decade of experience in their respective fields.
Date: Feb 7, 2017
Venue: Asha Nivas, 9, Rutland Gate, 5th Street, Chennai – 600 006
Time: 9:30am – 5:30pm
Yes! We truly believe everyone out there can give. More importantly, we believe everyone, including you can raise money by getting them to give. And that is the Art of Fundraising – it is an art since the individual gives more emotionally and less rationally, more spontaneously (and yet equally thoughtfully) and less through discussion and debate and most importantly more rather than less.
On the other hand, we believe that the NGOs working directly with the underprivileged sections of society have the most inspiring tales of human achievement and social transformation. These stories evoke emotion and spontaneity in individual donors engaging them to increase their giving over time. Individual donors, indeed, are key to an organization's success, not only in fundraising but in achieving social change by impacting the hearts and minds of hundreds, thousands, millions and billions!
Alas! This has unfortunately not been a focus area for many NGOs. Few know that no less than 40% of all donations are made by individuals in India today. So, we bring to you the Art of Fundraising Workshop to help you understand what are some of the ways you can reach donors – online & offline.
Time
Session

9:30 – 10:00 am

Registration

10:00 – 10:30 am

Why is fundraising from individuals important?

Dhaval Udani, Founder & CEO, danamojo.org

10:30 – 11:00 am

Importance of retail fundraising for an NGO and what makes and individual donate?

Sathish Vaidyanathan, Director of Engineering, PayPal
Dr. Prahalathan KK, Co-Founder, Bhumi

MARKETING, COMMUNICATION & FUNDRAISING STRATEGY

11:00 – 11:30 am

How is Marketing & Communication important and relevant to retail fundraising?


Rajan Narayan, President, India Cares

11:30 – 11:45 pm

TEA/COFFEE BREAK

11:45 – 12:15 pm

Workshop Session

NGOs can bring their own communication and marketing tools and get feedback from ReachOut team. In addition, ReachOut team will show examples of good and bad marketing communication.

12:15 – 12:30 pm

About ReachOut
DIGITAL MARKETING

12:30 – 1:00 pm

The Why? What? And Where? Of Digital Marketing

Shan Mani, Managing Partner, HiveMinds

1:00 – 2:00 pm

LUNCH

2:00 – 2:30 pm

Workshop Session

Building an Email List

2:30 – 2:45 pm

About HiveMinds
EVENTS

2:45 – 3:15 pm

Leveraging events for retail fundraising

Prasanna, CIOSA – Battle of Buffet & other events
Rajan Narayan President, India Cares – Marathon

3:15 – 3:30 pm

TEA/COFFEE BREAK

3:30 – 4:00 pm

Workshop Session

Prepare a 5 min pitch for getting donors to participate for them for Marathon/Battle of Buffet

Facilitator: Aarti Madhusudan

4:00 – 4:30 pm

Presentation by 3 NGOs and feedback by panel of speakers
MAKING DONATIONS SIMPLER

4:30 – 5:15 pm

Workshop Session

Feedback on Donation Process on websites of NGOs present in the room

5:15 – 5:30 pm

About DanaMojo
 

5:30 – 6:00 pm

Experience Sharing & Feedback Gathering
 
Sathish Vaidyanathan

Director of Engineering, PayPal

Sathish Vaidyanathan works for PayPal's Chennai Technology center, where he is the Director of Engineering, for their New Initiatives Group. He is passionate about social causes and has actively partnered with and volunteered for social initiatives. He was also the leading outreach efforts of PayPal and has partnered with several non-profits in the Chennai region. He blogs on professional and personal development on LinkedIn.

Dr. Prahalathan KK

Co-Founder, Bhumi

Dr. Prahalathan KK is one of the Co-Founders of Bhumi. He currently leads education programmes in communities, civic initiatives, fundraising, events and communication at Bhumi. He is passionate about promoting the habit of volunteering among young people and strongly believes every child deserves quality education. He started a successful campaign on Change.org to bring back meters to auto-rickshaws in Chennai after seven years in 2013. He is a doctor by profession specialised in Ophthalmology.

 
Shan M S

CEO & Managing Partner at HiveMinds Innovative Market Solutions

Shan has a keen interest in non-profits and was actively involved in Mumbai chapters of WhiteBoard and UnLtd. He also setup the CSR wing of ATKearney India and supported multiple NGOs and resource mobilization programs. At HiveMinds, he has also been supporting few NGOs get better digital presence, growth and support fund-raising efforts through online platforms.

Shan is currently CEO & Managing Partner of HiveMinds Innovative Market Solutions. Shan is a business leader and an entrepreneur with 12 years of experience in start-up, management consulting, technology and non-profit. He is an alumni of IIM Bangalore and Anna University. His strengths are analytical skills, strategy formulation, organization building and operations. As a CEO, has built HiveMinds to a scalable organization of 50+ people and worked closely with 60+ start-ups and high growth companies in growth & marketing strategies. As an achievement consultant, led large scale transformation & operations projects in large organizations in FMCG, Retail, Textiles and Manufacturing sectors.

 
Rajan Narayanan

President, India Cares

Rajan is the president of IndiaCares Foundation a support organisation for CSOs (NGOs) and which is the philanthropy partner for the TCS 10K Marathon at Bangalore and the Airtel Delhi Half Marathon. He is also an active in the social sector as a Core Volunteer for the DAANUTSAV (Joy of Giving Week) initiative, panel member with 'Whiteboard' an initiative to help NGOs with their operational issues and a Trustee with 4 NGOs 'Baale Mane' a home for girls who don't have parents able to care for them; Diya Foundation that works to train and create employment for the differently abled,  One Billion Literates Foundation that imparts English language training to children in Govt schools and Ankura Foundation that is an early intervention centre for children with special needs.

Rajan is a senior executive and a serial entrepreneur with over 30 years of professional experience. He is a promoter Director of SecondAvenue, an advisory company to encourage, mentor and nurture small and medium-sized companies and first-generation entrepreneurs to scale their business to the next level. Rajan is also a promoter of "PeopleEnglish" a company that has partnered with Cambridge English (part of Cambridge University) to offer assessment, training and certification in the area of Business English Communication for the workplace. Prior to this he was a Senior Vice President at MindTree and led several industry verticals, a position that resulted as a result of the merger of the company that he co-founded in 1988 where he was the COO and Vice-Chairman.

 
Dhaval Udani

Founder & CEO, danamojo.org

Dhaval is the Founder & CEO of danamojo.org, India's first payment solutions platform specially designed for NGOs. Prior to this, Dhaval was associated with GiveIndia for over 8 years as both volunteer and employee. He left GiveIndia after a 4 year stint as the CEO. During his association with GiveIndia, retail fundraising increased from Rs. 7 cr to Rs. 42 cr through more than 150,000 donors. He was instrumental in various innovations including alliance-based fundraising with various corporate brands such as MakeMyTrip, Payback, GroupOn etc. He also designed and conceptualized India's largest online fundraising event – India Giving Challenge which raised more than Rs. 20 cr in 6 years from over 75,000 donors and gave out over Rs. 5 cr in matching grants.

Dhaval is an alumnus of the Indian Institute of Management, Ahmedabad, and a Computer Science graduate from VJTI, Mumbai. Dhaval has an experience of over 15 years spanning technology, management consulting and philanthropy advisory. Dhaval has worked with multi-nationals such as Citigroup and A. T. Kearney before he began his social sector journey with GiveIndia. Dhaval is also visiting faculty at S. P. Jain Institute of Management Research where he teaches a course on Fundraising 2.0: The Art of Social Fundraising where students take part in a fundraising competition to put into practice what they have learnt in the classroom. Dhaval is also an Aspen Fellow and a part of its India Leadership Initiative.

In addition, all the service providers in the workshop are offering discounts to participating NGOs who sign up for the workshop. You can avail benefits of over Rs. 70,000. So even more reason to take part. Learn and implement at a discount.
danamojo is offering a 20% discount on setup and integration fees (Rs. 2,999) amounting to Rs. 600
HiveMinds is offering a 10% discount for 3 months on its Basic (Rs. 25,000 p.m.) and Professional (Rs. 45,000 p.m.) packages and a 20% discount on its Enterprise package (Rs. 90,000 p.m.) for an overall discount upto Rs. 54,000
India Cares is offering discounts for its WishTree and ReachOut offerings

WishTree – 20% discount on 2 WishTrees (Rs. 2,000) for a year amounting to Rs. 400
ReachOut – 20% discount for 6 months on its packages (ranging from Rs. 10,000 p.m. to Rs. 15,000 p.m.) for an overall discount upto Rs. 18,000
To avail these discounts, you need to signup for the services before Mar 31, 2017.