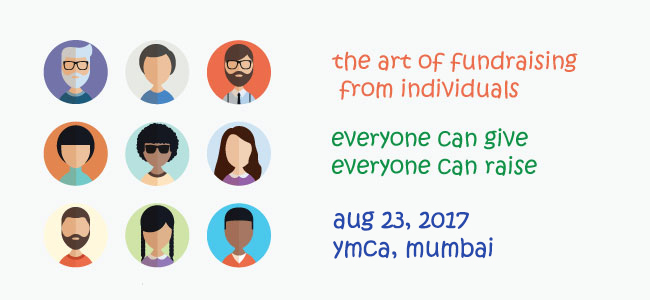 The Art of Fundraising workshop brings to you the Why? What? And How? of fundraising from individuals. A unique format combining knowledge, experience and practice to maximize your output with speakers & facilitators having more than a decade of experience in their respective fields.
Date: Aug 23, 2017
Venue: YMCA, Mumbai Central
Address: 18, YMCA Road Mumbai, Central Mumbai, Mumbai, Maharashtra 400 008 (near Maratha Mandir)(on Google Maps)
Time: 9:30am – 6:30pm
Contact Us: care@danamojo.org / 080 4123 2544 / 080 2685 2744
WhatsApp: 97692 06750
Join our community of over 100 participants from 70 NGOs that have benefited from our workshops in Chennai & Bengaluru
Yes! We truly believe everyone out there can give. More importantly, we believe everyone, including you can raise money by getting them to give. And that is the Art of Fundraising – it is an art since the individual gives more emotionally and less rationally, more spontaneously (and yet equally thoughtfully) and less through discussion and debate and most importantly more rather than less.
On the other hand, we believe that the NGOs working directly with the underprivileged sections of society have the most inspiring tales of human achievement and social transformation. These stories evoke emotion and spontaneity in individual donors engaging them to increase their giving over time. Individual donors, indeed, are key to an organization's success, not only in fundraising but in achieving social change by impacting the hearts and minds of hundreds, thousands, millions and billions!
Alas! This has unfortunately not been a focus area for many NGOs. Few know that no less than 40% of all donations are made by individuals in India today. So, we bring to you the Art of Fundraising Workshop to help you understand what are some of the ways you can reach donors – online & offline.
Time
Session

9:00 – 9:30 am

Registration
IMPORTANCE OF RETAIL FUNDRAISING

9:30 – 10:45am

The importance of retail fundraising for NGOs

Annabel Mehta, President, Apnalaya
Sundeep Talwar, CMO, Akshaya Patra

10:45 – 11:15 am

Why is fundraising from individuals important?

Dhaval Udani, Founder & CEO, danamojo.org

11:15 – 11:30 am

TEA/COFFEE BREAK

11:30 – 12:00 pm

How certification can help NGOs to raise funds from individuals?

Pushpa Aman Singh, Founder & CEO, Guidestar India

EFFECTIVE COMMUNICATION

12:00 – 1:15 pm

Fundraising Secrets of Mahatma Gandhi

ACTIVITY SESSION
Feedback on actual collateral submitted by NGOs

Suman Srivastava, Founder & Innovation Artist, Marketing Unplugged

1:15 – 2:00 pm

LUNCH BREAK
BUILDING EFFECTIVE DONATION PRODUCTS

2:00 – 3:30 pm

Best Practices for High Performing Donation Products for Individual Donors

ACTIVITY SESSION
Each NGO develops 1 donation product of its work using the best practices.
Select NGOs present and receive feedback on their donation products

Dhaval Udani, Founder & CEO, danamojo.org

3:30 – 3:45 pm

TEA/COFFEE BREAK
SOCIAL FUNDRAISING

3:45 – 5:15 pm

What? Why? And How of Social Fundraising? When does it work? And when not?
Best Practices for Building an Effective Campaign

ACTIVITY SESSION

Network Mapping – Finding donors within your network

Kavita Mathew, India Partnerships Consultant, GlobalGiving

SIMPLIFYING THE DONATION PROCESS

5:15 – 6:00 pm

ACTIVITY SESSION

Feedback on Donation Process on websites of NGOs present in the room

Dhaval Udani, Founder & CEO, danamojo.org

6:00 – 6:30 pm

DONOR SPEAK –

Nimesh Sumati, Co-Founder, Caring Friends

6:30 – 6:45 pm

Experience Sharing & Feedback Gathering
Annabel Mehta

President, Apnalaya

Annabel Mehta is currently the President of the Mumbai-based NGO – Apnalaya, which she has been associated with since 1973. In addition to her role as Treasurer, she is also involved with programme planning and implementation on a regular basis. One of the founding members of the Spastics Society in Mumbai, she has been involved in social work earlier too – with Sanjivani Trust in Mumbai.

Annabel was born in Solihull, Birmingham, in the UK in 1940. She completed her schooling at Malvern Girls College (1950-58); post which she went to the Royal College of Music (1958-60). She has also done a Diploma in Social Administration from the London School of Economics. She worked with the Family Service Unit in London before shifting base to India in 1966, when she got married.

 
Dhaval Udani

Founder & CEO, danamojo.org

Dhaval is the Founder & CEO of danamojo.org, India's first payment solutions platform specially designed for NGOs. Prior to this, Dhaval was associated with GiveIndia for over 8 years as both volunteer and employee. He left GiveIndia after a 4 year stint as the CEO. During his association with GiveIndia, retail fundraising increased from Rs. 7 cr to Rs. 42 cr through more than 150,000 donors. He was instrumental in various innovations including alliance-based fundraising with various corporate brands such as MakeMyTrip, Payback, GroupOn etc. He also designed and conceptualized India's largest online fundraising event – India Giving Challenge which raised more than Rs. 20 cr in 6 years from over 75,000 donors and gave out over Rs. 5 cr in matching grants.

Dhaval is an alumnus of the Indian Institute of Management, Ahmedabad, and a Computer Science graduate from VJTI, Mumbai. Dhaval has an experience of over 15 years spanning technology, management consulting and philanthropy advisory. Dhaval has worked with multi-nationals such as Citigroup and A. T. Kearney before he began his social sector journey with GiveIndia. Dhaval is also visiting faculty at S. P. Jain Institute of Management Research where he teaches a course on Fundraising 2.0: The Art of Social Fundraising where students take part in a fundraising competition to put into practice what they have learnt in the classroom. Dhaval is also an Aspen Fellow and a part of its India Leadership Initiative.


Kavita Mathew

India Partnerships ConsultantGlobalGiving

Kavita helps GlobalGiving increase its reach and impact in India, drawing from her experience of working with multiple nonprofits in the country. Before discovering her passion for making the world a better place, Kavita spent a couple of years with Goldman Sachs, where she found her love for spreadsheets and data. She then earned her stripes at a grassroot-level nonprofit organization called Dream A Dream and later took to consulting to widen the impact of her work. Her passion for social development, enthusiasm to explore the path less trodden, and love for India, eventually brought her to her current role with GlobalGiving.

Outside of GlobalGiving, she finds other ways to stay stimulated, by playing fundraising consultant to nonprofits, being a sounding board to her start-up stage entrepreneurial friends, and eating lots of dark chocolate. A believer in life-long learning, she recently completed her Post Graduation in 'Child Rights Law' from the National Law School of India University, Bangalore.

Nimesh Sumati

Co-Founder, Caring Friends

Nimeshbhai, as he is fondly known, is the co-founder of Caring Friends(CF). He has spearheaded the growth of the organisation since 2005. His main focus is on "quality" and to strengthen the organisational fundamentals. A keen social entrepreneur, he recognizes a social problem and undertakes painstaking research and background checks to identify a credible and efficient social organization in that space for 'Caring Friends' to support, nurture and grow. He is very passionate about visiting all CF associated organisations in different states of India on a regular basis for continuous evaluation – many time with new potential donors and supporters. Nimesh is working to build a solid team to take the 'Caring Friends' platform to a truly national level

He describes himself as literate with a B. Com degree, working as an investor but whose true education started in Caring Friends.

Pushpa Aman Singh

Founder & CEO, GuideStar India

Pushpa founded GuideStar India (www.guidestarindia.org) in 2009, after 18 years of scaling innovative organisations, including a decade of experience in the financial services sector. GuideStar India has emerged as India's most reliable NGO information repository with data of more than 7800 NGOs across India. She works tirelessly with NGOs to embrace transparency and enhance their capacity to access philanthropic resources. Having vetted more than 6000 NGOs, Pushpa brings rare insights into India's complex and diverse NGO sector. Pushpa has conducted numerous multi-lingual NGO workshops across India, explaining in simple and practical terms, the why, what and how of legal compliance and financial transparency.

She is advising the Charity Commissioner of Maharashtra for digitisation and online administration of charities. She has evangelised IT PAN as the unique id for NGOs among government and philanthropic institutions and is instrumental for launching the BRIDGE number in India, for efficient exchange of NGO information across organisations. Earlier, Pushpa was the COO of GiveIndia, supporting the scaling up of NGOs on India's first online giving portal. Pushpa is on the Advisory Council of GuideStar US and CII's Advisory Group & Task Force for its india@75 initiative, Probono Unplugged. Pushpa is an MBA Gold Medalist and a Senior Global Fellow of the Synergos Institute, NY.

Suman Srivastava

Founder & Innovation Artist, Marketing Unplugged

Suman has been the CEO of Euro RSCG India for 5 years and Chief Strategy Officer for Euro RSCG Asia Pacific. He was the Chairman of Euro RSCG's emerging markets planning council and a member of the global management committee. Lastly, he was Vice Chairman & Chief Strategy Officer of FCB Ulka Group in India. Suman Srivastava is the Founder and Innovation Artist at Marketing Unplugged. He is also the author of Marketing Unplugged: Spotting the elephants in the room. The focus of Marketing Unplugged is to help Indian companies create marketing innovations and thus achieve extraordinary growth. In this capacity, he has been associated with brands such as Raymond (suitings), CaratLane (online jewellery), Network18 (media), Sweekar (cooking oil), Spuul (entertainment app), Johnson & Johnson (OTC), Navneet (stationery) and FCB Ulka to name a few. Suman loves startups. He was part of the team that started SSC&B Lintas and later part of the team that started Euro RSCG India.

Suman believes that he was put on earth to be a teacher. He loves teaching and has taught at IIMs in Ahmedabad & Bangalore, ISB Hyderabad, IITs at Bombay & Kharagpur, MICA and several other management institutes across the country. He is active in the voluntary sector where he works on causes that range from schooling for slum children to child sexual abuse to rural tourism to getting India to give more. He is a trustee of two NGOs, an adviser to a third and a volunteer with several others.

A graduate of Delhi University, IIM Ahmedabad and IMD Lausanne, he is an advertising man, strategist, author, marathon runner, teacher, social worker, sports fan, creative bartender and an entrepreneur.

Sundeep Talwar

Chief Marketing Officer, The Akshaya Patra Foundation

The Akshaya Patra Foundation is the world's largest school meal program run by an NGO feeding over 1.6 million children every day in 29 locations and 12 states in India. Sundeep is a dual Post Graduate in Management from Duke & IIM Ahmedabad and certified black belt in Quality with over 20 years of work experience in the areas of marketing & communications with leading corporates especially in the Telecom Sector.

Before joining Akshaya Patra, as CMO, he was associated as National Business Head (Mobility Operations) with Aircel driving the Mobile Banking operations nationally. Prior to that, he has essayed Senior Leadership Roles with brands like Bharti Airtel, Motorola, Escotel & Essar across country and in Africa. He is also awarded with an international accreditation from BID Spain for developing the first anti-virus application He is a vivid professional Trainer too and have talked on various subjects in prestigious schools like IIM, IIPM, IMT over years

His search for 'Existential Purpose' in life made him quit a corporate career and join the Akshaya Patra Foundation, a not-for-profit organization with a vision that 'No Child in India shall be deprived of Education because of Hunger'.
In addition, all the service providers in the workshop are offering discounts to participating NGOs who sign up for the workshop. You can avail benefits of over Rs. 1,000. So even more reason to take part. Learn and implement at a discount.
danamojo is offering a 20% discount on setup and integration fees (Advantage Plan – Rs. 3,999 & Premium Plan – Rs. 7,499) amounting to Rs. 800 and Rs. 1,500 respectively
To avail these discounts, you need to signup for the services before Sep 30, 2017.