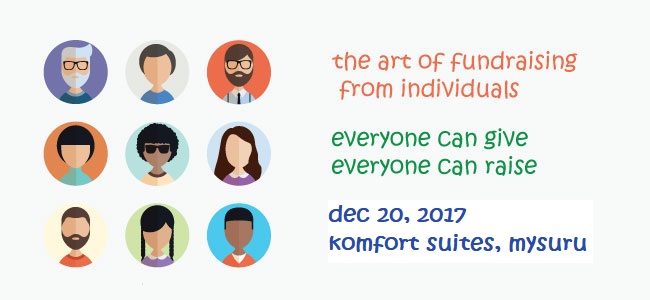 The Art of Fundraising workshop brings to you the Why? What? And How? of fundraising from individuals. A unique format combining knowledge, experience and practice to maximize your output with speakers & facilitators having more than a decade of experience in their respective fields.
Date: Dec 20, 2017
Venue: Komfort Suites
Address: No. 66,66A, Vivekananda Road, Yadavagiri, Mysuru, Karnataka 570020(on Google Maps)
Time: 1:30pm – 7:00pm
Contact Us: care@danamojo.org / 080 4123 2544 / 080 2685 2744
WhatsApp: 97692 06750
Join our community of over 150 participants from 100+ NGOs that have benefited from our workshops in Chennai, Bengaluru & Mumbai
Yes! We truly believe everyone out there can give. More importantly, we believe everyone, including you can raise money by getting them to give. And that is the Art of Fundraising – it is an art since the individual gives more emotionally and less rationally, more spontaneously (and yet equally thoughtfully) and less through discussion and debate and most importantly more rather than less.
On the other hand, we believe that the NGOs working directly with the underprivileged sections of society have the most inspiring tales of human achievement and social transformation. These stories evoke emotion and spontaneity in individual donors engaging them to increase their giving over time. Individual donors, indeed, are key to an organization's success, not only in fundraising but in achieving social change by impacting the hearts and minds of hundreds, thousands, millions and billions!
Alas! This has unfortunately not been a focus area for many NGOs. Few know that no less than 40% of all donations are made by individuals in India today. So, we bring to you the Art of Fundraising Workshop to help you understand what are some of the ways you can reach donors – online & offline.
Time
Session

1:30 – 2:00 pm

Registration
IMPORTANCE OF RETAIL FUNDRAISING

2:00 – 2:20pm

Why is fundraising from individuals important?


Dhaval Udani, Founder & CEO, danamojo.org

2:20 – 2:30 pm

Why did Kalisu Foundation decide to take a payment gateway?


Nikhilesh, Co-Founder, Kalishu Foundation

BUILDING EFFECTIVE DONATION PRODUCTS

2:30 – 3:45 pm

Best Practices for High Performing Donation Products for Individual Donors

ACTIVITY SESSION
Each NGO develops 1 donation product of its work using the best practices.
Select NGOs present and receive feedback on their donation products

Dhaval Udani, Founder & CEO, danamojo.org

3:45 – 4:15 pm

TEA/COFFEE & SNACKS BREAK
SOCIAL FUNDRAISING

4:15 – 6:45 pm

What? Why? And How of Social Fundraising? When does it work? And when not?
Best Practices for Building an Effective Campaign

ACTIVITY SESSION

Network Mapping – Finding donors within your network

Kavita Mathew, India Partnerships Consultant, GlobalGiving

6:45 – 7:00 pm

Experience Sharing & Feedback Gathering
Nikhilesh

Co-Founder, Kalishu Foundation

Nikhilesh is a Post Graduate in Management specialized in Human Resource and Marketing Management from JSS Centre for Management Studies. A Strong believer of 'Education is the only way for a better India', he along with his brother Vignesh M M co-founded Kalisu Foundation, an organization providing high quality education to children studying in Government Schools coming from low-income background enabling them to maximize their potential and transforming their lives.

Kavita Mathew

India Partnerships ConsultantGlobalGiving

Kavita helps GlobalGiving increase its reach and impact in India, drawing from her experience of working with multiple nonprofits in the country. Before discovering her passion for making the world a better place, Kavita spent a couple of years with Goldman Sachs, where she found her love for spreadsheets and data. She then earned her stripes at a grassroot-level nonprofit organization called Dream A Dream and later took to consulting to widen the impact of her work. Her passion for social development, enthusiasm to explore the path less trodden, and love for India, eventually brought her to her current role with GlobalGiving.

Outside of GlobalGiving, she finds other ways to stay stimulated, by playing fundraising consultant to nonprofits, being a sounding board to her start-up stage entrepreneurial friends, and eating lots of dark chocolate. A believer in life-long learning, she recently completed her Post Graduation in 'Child Rights Law' from the National Law School of India University, Bangalore.

 
Dhaval Udani

Founder & CEO, danamojo.org

Dhaval is the Founder & CEO of danamojo.org, India's first payment solutions platform specially designed for NGOs. Prior to this, Dhaval was associated with GiveIndia for over 8 years as both volunteer and employee. He left GiveIndia after a 4 year stint as the CEO. During his association with GiveIndia, retail fundraising increased from Rs. 7 cr to Rs. 42 cr through more than 150,000 donors. He was instrumental in various innovations including alliance-based fundraising with various corporate brands such as MakeMyTrip, Payback, GroupOn etc. He also designed and conceptualized India's largest online fundraising event – India Giving Challenge which raised more than Rs. 20 cr in 6 years from over 75,000 donors and gave out over Rs. 5 cr in matching grants.

Dhaval is an alumnus of the Indian Institute of Management, Ahmedabad, and a Computer Science graduate from VJTI, Mumbai. Dhaval has an experience of over 15 years spanning technology, management consulting and philanthropy advisory. Dhaval has worked with multi-nationals such as Citigroup and A. T. Kearney before he began his social sector journey with GiveIndia. Dhaval is also visiting faculty at S. P. Jain Institute of Management Research where he teaches a course on Fundraising 2.0: The Art of Social Fundraising where students take part in a fundraising competition to put into practice what they have learnt in the classroom. Dhaval is also an Aspen Fellow and a part of its India Leadership Initiative.

In addition, all the service providers in the workshop are offering discounts to participating NGOs who sign up for the workshop. You can avail benefits of over Rs. 1,000. So even more reason to take part. Learn and implement at a discount.
danamojo is offering a 20% discount on setup and integration fees (Advantage Plan – Rs. 3,999 & Premium Plan – Rs. 7,499) amounting to Rs. 800 and Rs. 1,500 respectively
To avail these discounts, you need to signup for the services before Jan 31, 2017.